New Venture Young Adults Theatre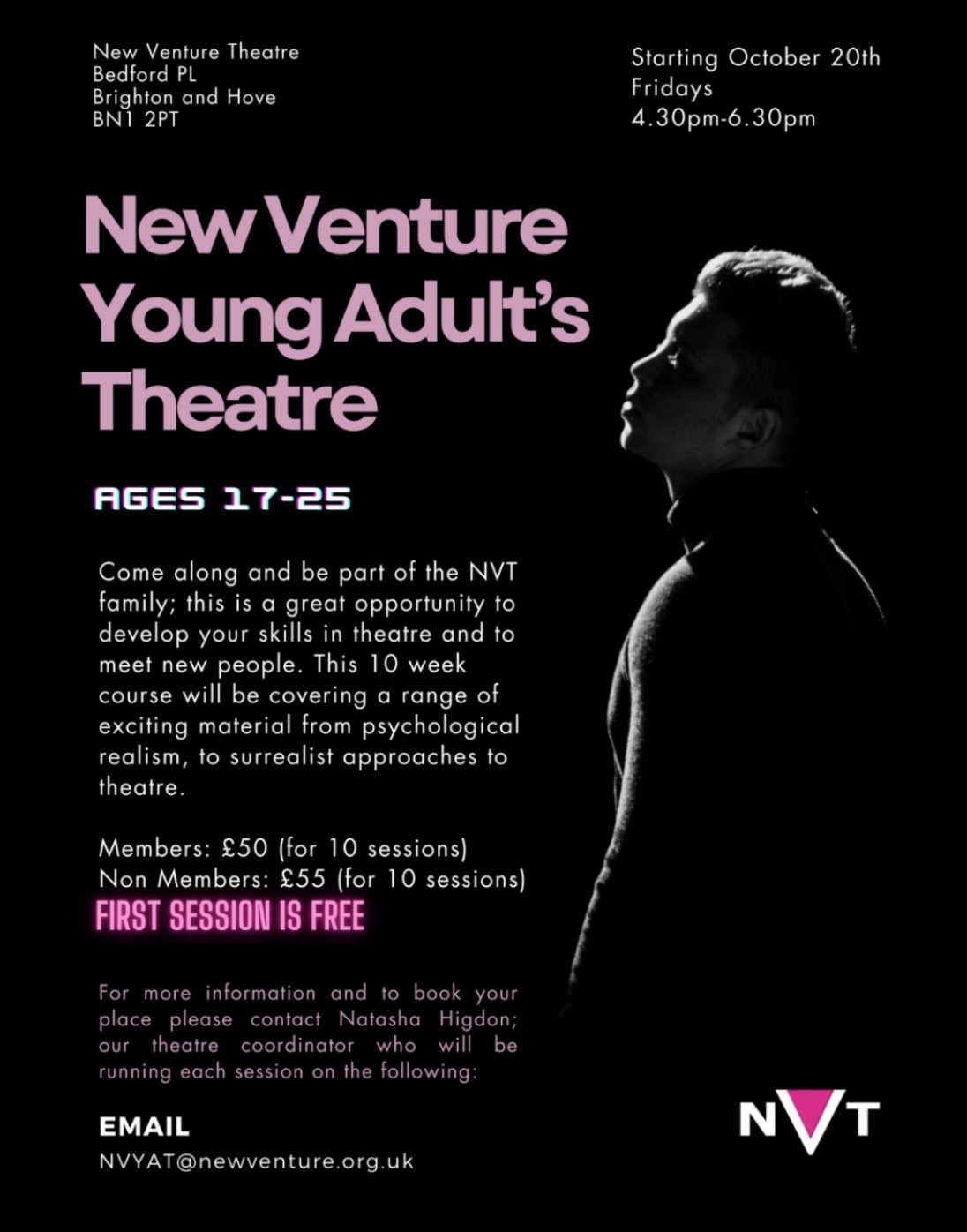 We are delighted to announce a new course specifically for our young people wanting to attend a series of acting classes that will build their skills and experience within the theatre sector. If you're aged 17-25 and seeking to get involved in more theatre, then please get in touch. Each session will run on a Friday evening, from 4.30pm-6.30pm at The New Venture Theatre. The course will start on October 20th, where you will get your NVT membership and meet some of our amazing team.
The first session is entirely free, where you will get the opportunity to have a tour of the theatre and meet Natasha Higdon (Natasha is the theatre co-ordinator for this group and will be leading the sessions). You will have an introductory workshop where you will get to meet new people and discuss the exciting opportunities for the course and up-coming sessions. The entire cost of the course is £55 (for non-members) and £50 (for members). Each session will be focused on different practitioners and styles of theatre, to support you and your fellow actors/artists developing the tools you need to create a piece of theatre for a February showcase in 2024.

FIRST SESSION FREE (20 October)
10 week course: £50 (NVT members)
£55 (non-members)
Course outline for this season:
Friday October 20th: Meet the team and free taster session
Friday October 27th: Psychological realism
Friday November 3rd: Realism on stage verses film
Friday November 10th: Total theatre - Surrealist ideas on stage
Friday November 17th: Theatre of the Absurd
Friday November 24th: The art of ensemble and puppetry
Friday December 1st: Contemporary pioneers of Political Theatre
Friday December 8th: Devising Tool Kit
Friday December 15th: Cast Rehearsal
Friday December 22nd: Performances, followed by end of season celebration
For more information about the course and how to sign up, please get in touch with Natasha Higdon directly on: This email address is being protected from spambots. You need JavaScript enabled to view it.
About your theatre co-ordinator
Natasha Higdon is presently working as a drama freelancer and is based in Brighton, United Kingdom. Her passion for theatre evolved from a young age when she got the role of 'Bilbo Baggins.' Natasha has always been passionate about community based theatre, which stems from her BSc Hons Degree in Psychology with Performing Arts in the Community, where she studied at Oxford Brooke's University. Natasha has continued to teach Drama, Theatre Studies and Performing Arts in Suffolk, London and Brighton.
Natasha specialises in physical theatre, berkoffian theatre and theatre of the absurd. Her approach is experimental, focusing on music and movement to communicate her narrative. Natasha directed her own adaptation of 'Blood Wedding' this year for Brighton Fringe Festival, which received 'Outstanding Youth Theatre.' This was an amalgamation of: physical theatre, puppetry and poetic form.
Natasha has published materials on: Antonin Artaud and Steven Berkoff, writing for 'We Teach Drama.' She has also worked for 'Go Live Theatre' as a writer and is presently a Reviewer for Fringe Review where she specialises in reviewing physicalised works, recently for Edinburgh Fringe Festival. Currently, Natasha is a tutor/director for Third Space based in Brighton. Natasha is also working on a surrealist event, in partnership with Fabrica, that will involve live theatre and art works from the local community in Brighton. This will celebrate the life and works of Franz Kafka.